At Edgewood we offer a dynamic range of programs to help every student receive the best possible education. Our programs create engaging and empowering experiences that nurture the whole child. Learn about all of the programs we offer at Edgewood Schools HERE.
At EPS each classroom has a Classroom Ambassador that assists the teacher with teacher assigned responsibilities and may run errands outside of the classroom.
In 2nd grade each class has a Classroom Ambassador and two EPS Ambassadors. EPS Ambassadors assist Mrs. Whitaker and Mr. Wooden with school-wide functions such as book reads, convocations, and occasionally an evening program.
If you have questions or want more information contact:
Edgewood is committed to providing an exceptional level of differentiated instruction for our identified high ability students. Watch this video or click here to learn more about our high ability program.
If you have questions or want more information contact:
The Makerspace serves two purposes at EPS. It is a design space for students to come in to make, create, and design prototypes, and it is a place where teachers can come to do the messier activities that relate to their curriculum.
If you have questions about the Makerspace or would like to partner with us for a project contact:

John Kerr
STEAM Coach
Edgewood Special Education services strive to ensure all students are given the highest quality education that meets their individual academic, social, emotional, and functional needs.  Edgewood is part of a Special Education Cooperative with Spencer Owen Community Schools, called Forest Hills Special Education Cooperative. 
Click HERE for more information.
If you have questions or want more information contact:
We use our Student Services to advocate for our students and their needs. We believe it is important to focus on each child as a whole and support them in all of their needs. The following programs are part of the Students Services we provide.
Social-Emotional Learning
Social and emotional learning (SEL) is a key element to our students' success not only as a prepared workforce but as well-rounded, resilient members of our community. It is for this reason that we are committed to providing every teacher with the professional learning they need to support their students emotionally as much as academically.
Social/Emotional Learning (SEL) competencies involve the processes through which students acquire and effectively apply the knowledge, attitudes, and skills necessary to understand and manage emotions, set and achieve positive goals, establish and maintain positive relationships, and make responsible decisions (Durlak, Weissberg, Dymnicki, Taylor, & Schellinger, 2011)
SEL is not politically or religiously affiliated and is not critical race theory. Per IC 20-19-5, IDOE SEL is required by law in the State of Indiana.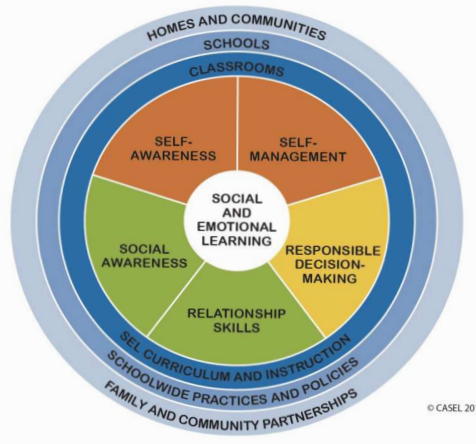 Title 1 is a Federally Funded Program that provides financial assistance to local educational agencies (LEAs) and schools with high numbers or high percentages of children from low-income families to help ensure that all children meet challenging state academic standards.
The mission of Title I is to provide a continuum of services and resources to Title I districts and charter schools that enrich curriculum and instruction, promote interaction and coordination of supplementary services and resources, and result in excellence and high expectations for educators and students.
CONNECTING LEARNING ASSURES SUCCESSFUL STUDENTS (C.L.A.S.S.)
Creating successful schools through the blending of brain research, character education, and collaboration strategies.
What is C.L.A.S.S.?
C.L.A.S.S. is an organization driven by creativity and innovation. Led by a faculty of extraordinary educators, C.L.A.S.S. transforms research-based ideas into exceptional educational services and materials to aid in preparing future generations for their world.
Click HERE for more information.
Dyslexia Screeners: iReady Dyslexia Screener & Orton Gillingham Dyslexia Screener
McKinney Vento Liaison for Edgewood Schools:
Jill Cronin
If you have questions about our Student Services or want more information contact:
Ready Schools is our commitment and our plan to ensure success for our students post-graduation and to ensure economic prosperity for our community.
We want our students to leave Edgewood with advantages and experiences and a plan for post-graduation success. We want them to understand the relevance of their learning. We want employers and community leaders to covet partnerships with our teachers and students for the value we can bring to our entire community. At Edgewood we understand and embrace our responsibility to ensure economic prosperity for our community by providing skilled workers and leaders, who can be retained within our regional workforce, and who will also feel empowered to contribute to our local economy. 
We know all students aren't on the same path for after graduation, so our Ready Schools program meets every student where they are at. Whether they are going on to college, the military, an apprenticeship, or job, we want to give every student the chance to find their passion and create a plan they are confident in to purse. We are doing this by diversifying our learning experiences to give every student knowledge of the real world, so they are confident to follow whatever plan they are passionate about. 
At Edgewood, our Ready Schools Initiative starts in preschool. Some of the ways we implement our Ready Schools Initiative at EPS is through the following programs: STEAM(Science, Technology, Engineering, Art, Math), Project Based Learning, Project Lead the Way Curriculum, and the Makerspace.
Innovative approaches to learning, like Ready Schools, require systemic collaboration and ultimately benefit the community as a whole. We would love to partner with you through our Ready Schools program. Fill out the Interest Form to learn more. 
If you have questions or want more information contact: