Richland-Bean Blossom Community School Corporation (R-BB) is a school system serving nearly 3000 students in the Richland and Bean Blossom Townships in northwestern Monroe County, Indiana. At RBB we are a family that cares about our students, their families, and the community. We dare to promote bold innovations to help all learners succeed and to prepare them to change their world for the better. We are caring, we are daring, and we are preparing future leaders and innovators.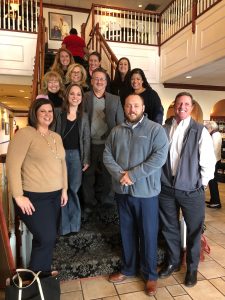 We are Caring, Daring, and Preparing
At RBB it is our commitment to: 
Provide authentic and relevant learning by building relationships with community and industry partners
Develop and maintain family and community connections through engaging and empowering experiences
Encourage the use of innovative tools within flexible and inviting spaces 
Promote workforce readiness by helping students develop the necessary skills and career awareness
Nurture the whole child by providing for the social and emotional needs of our students 
We've been fortunate, with the support of Regional Opportunity Initiatives (ROI) to engage in Ready Schools, a 10-month design-thinking process to align our priorities as a school corporation with the hopes and needs of our community. 
Six Core Principles
Every student is engaged in a relevant path to success.
Students graduate high school ready for post-secondary and career success.
Meaningful and ongoing collaboration occurs among schools, industry, and community.
Teaching and learning are grounded in relevancy.
K-12 schools are aligned around a common vision of student success.
Schools embrace the significant role they play in achieving regional prosperity.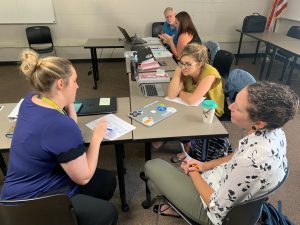 Beginning in the Fall we gathered a great deal of data from all stakeholders — our students, families, staff and community members.
2,219 survey responses collected
443 interviews conducted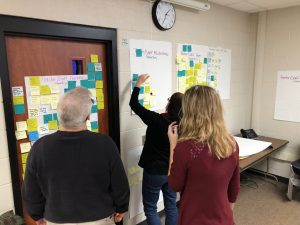 We refined this tremendous collection of information first down to 95 common themes across all of the stakeholder responses, 7 profile maps of the satisfactions, frustrations and hopes of each of the stakeholder groups, then to 60 individual needs statements and 10 key "How Might We…?" questions that would drive our planning work. These questions sought answers like how to engage families and industry partners in more authentic ways, how to provide all students with access to innovative learning environments, how to equip teachers with the training necessary to empower their students and how to expose all students the career pathways available to them right here in our community.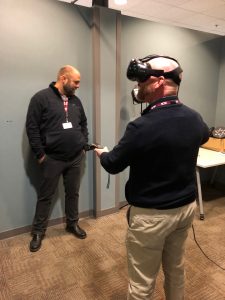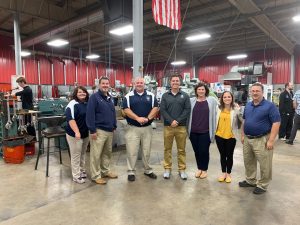 We took teams of educators on 16 major site visits and researched countless other strategies to explore promising practices. In the spring we began translating our ideas and goals into a strategic plan for implementation — ways to meet these needs and to continue preparing our students not only to engage in our regional workforce but to do so in meaningful ways based on their own interests, goals, and skills.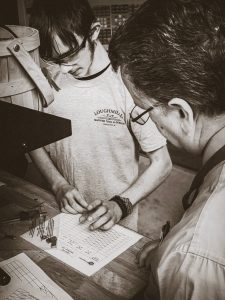 We want our students to leave Edgewood with advantages and experiences — with a plan for post-graduation success. We want our students to understand the relevance of their learning. We want employers and community leaders to covet partnerships with our teachers and students for the value we can bring to our entire community.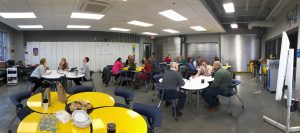 At R-BB we understand and embrace our responsibility to ensure economic prosperity for our community by providing skilled workers and leaders who can be retained within our regional workforce, and who will also feel empowered to contribute to our local economy. 
We are caring, daring and preparing students 
to change their world for the better.
Through Ready Schools, a year-long design-thinking process, we identified critical skills and mindsets students need for success in dynamic roles after high school. The Ready Schools Implementation Plan shown below is our roadmap to creating the opportunities for Edgewood students, families and educators, that will ensure every student is equipped for success after graduation, whether that means first enrolling in college or a technical program, becoming employed in the workforce, or enlisting in a branch of the military. 
Edgewood students will be ready for success in their future.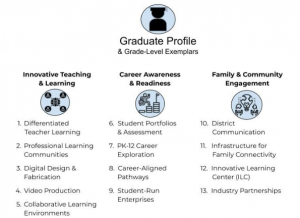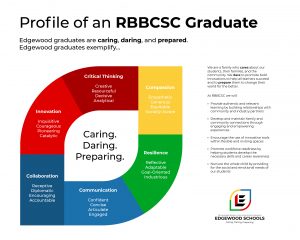 Pillar 1: Innovative Teaching and Learning
Teacher professional development and Professional Learning Communities (PLCs)
STEAM
Project Based Learning (PBL)
Project Lead the Way (PLTW)
Digital Design and Fabrication

STEAM Lab upgrades and DevX partnerships at EJHS/EHS

Video Production

EJHS Broadcast course/team
EHS media center and production

Collaborative Learning Environments

Media Center updates and tech tools

Robotics
Pillar 2: Career Awareness and Readiness
Student portfolio
Career experiences
Career Pathways
Student-run Coffeehouse
Pillar 3: Family and Community Engagement
Support for family connectivity – eLearning tools, IT support, local resources
Industry partners – internship opportunities, job tools, etc.
Family resources – Family Engagement, Parent liason, Ivy Tech Workshops, WorkOne
Innovative Learning Center (ILC)