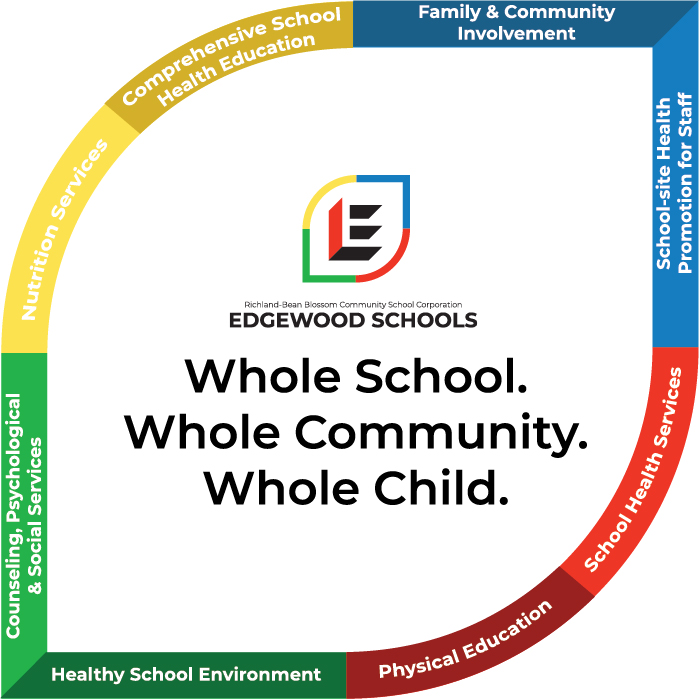 Richland-Bean Blossom's Healthy Schools and Nutrition Services believes in a Whole School, Whole Community, Whole Child approach to student's school experience. Consisting of 8 interconnected objectives, RBB is dedicated to making sure every opportunity is available to EVERY student and our staff members to create a community of healthy learners.
Vickie Coffey
Nutrition Services, Healthy Schools Director
vcoffey@rbbschools.net
(812) 876 7805
Our nutrition services department serves healthy breakfast and lunches to all of our students at RBB. We offer several different entre options each day along with fresh fruit and vegetables options.
We have a dedicated staff of over 20 foodservice professionals that have all received training and are all Serve Safe certified. We collaborate with our teachers at RBB, including genius hour where students learn food safety and meal preparation with a hands on approach.
In addition, we offer catered party trays that offer a healthier option in lieu of high sugar items for the classroom. Tastings of new vegetables in the classroom.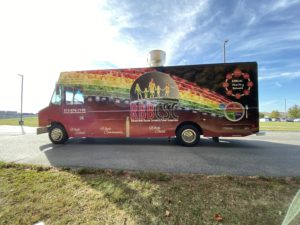 The RBB Food Truck – providing healthy meals for our students during summer break and during the COVID-19 crisis. The goal is to serve our RBB community to bring people together – food, fun, and familiar faces!
My School Bucks – To add money to your student's account
Our comprehensive school health education brings together all of our school health education from grades pre-k to graduates. Learning about composting, gardening, and garden-to-table food harvesting. We have gardens at all our schools and the harvest from EJHS have gone on to be used in our kitchens to feed our students.
Carrie Robbins, Danielle Butler and the other kindergarten teachers have collaborated to bring nutrition education to the classroom. At the elementariness we have "Try It" days where we introduce new fruits and vegetables for students to try.
Susan Keller
Erica Musselwhite
Shelia Wright and her Family and Consumer Science students have work at EHS to increase breakfast participation. Alicia Dirk has introduced PBL (project based learning) activities to start a coffee kiosk cart, breakfast items – allowing students to learn about food safety and to learn the process of running their own business
Jill Ferguson, our Family Engagement Coordinator, helps communicate healthy happening and school-wide events to our families. She works with community partners and parents to raise funds for activities and supplies within the classroom.
Along with that, she helps in connecting parents with community partners for EPS Fun Run, Bike Rodeo, Health Fair, Literacy Lock-in and other fun educational events.
A great way for parents to get involved is joining the Healthy Schools Committee – contact Vickie Coffey if interested – or your schools PTO. Please navigate to your school's page to find more information on their PTOs.
A healthy school environment starts with a clean and safe school. Arnold Caldwell, RBB's maintenance director, and his staff of custodians help keep our kids safe providing using nontoxic, green, and safe products to clean, disinfect and keep the buildings clean as possible to elevate illness in our student population.
We also believe that a healthy school environment includes trees and aesthetics to make our surroundings as pleasant as possible providing for a pleasant and safe space for our students to learn.
We are non-smoking and non-vaping campus!
We provide touch-less water fountains and clean water is available for all our students to drink or refill their water bottles. A hydrated mind is a mind ready to learn!
Physical Education is not just about running, it's about every aspect of keeping a healthy mind and body. The goal is to keep moving! A body in motion stays in motion and our teachers find ways to incorporate breaks during the days with physical activity to alleviate mental and physical fatigue.
We offer Walk to School day in coordination with a sidewalk grant to expand access to sidewalks to allow students a safer ability to walk to school.
Our PE teachers include:
Whitney Goodwin – EPS
Sarah Figg – EPS
Gary Williamson – EIS
Jill Walters – EJHS
Steve Livingson – EJHS
Greg Ratliff – EHS
Robin Taft – EHS
Brian Rosenburg – EHS
Debbie Day, corp nurse, work together to provide dental services, vision screenings, flu clinic for staff, food allergens training, provides CPR training for ALL staff and has collaborated with Lesley Myers from IU Health to certify 100% of our staff to be Stop-the-Bleed.
Our Tobacco Free Coalition works to educate and enforce our non-smoking and non-vaping campus  – members include Jerry Bland, Chandler Pogue, Andy Pogue, Debbie Day, Vickie Coffey and others at each of our buildings.
Link to School health contact page
We've had staff zomba, provided yoga,
goal is to eventially have school staff health center
work with partnerships with local 812Fit – Jazzercise – YCMA – to bring services to our staff
provided some massages for teachers
Working on a support dog for our staff and eventually students
Weight Watchers
We aim to provide social and emotional mental health supports and resources for our students, staff, and families. Social and emotional learning (SEL) is the process through which children and adults acquire and effectively apply the knowledge, attitudes, and skills necessary to understand and manage emotions, set and achieve positive goals, feel and show empathy for others, establish and maintain positive relationships, and make responsible decisions.
Tom Norris Contact
Link to SPED Page